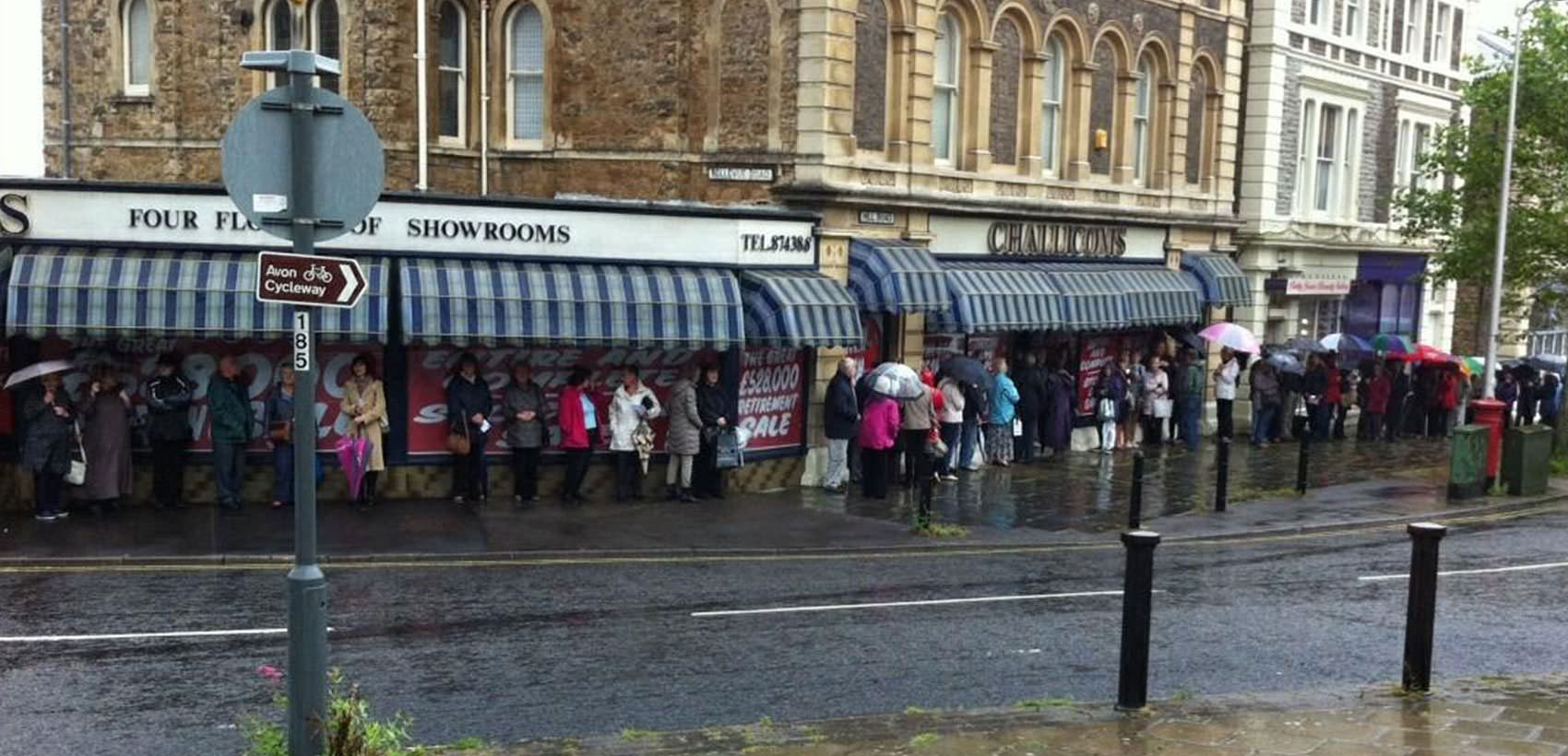 LYNCH UNITED KINGDOM & IRELAND
For more than 100 years the Lynch family continues the traditions begun by our founder, Joseph P. Lynch in 1914 when Lynch Sales Company originated the concept of promotional sales to stimulate business, generate cash, update inventory, or go out-of-business.
WHAT OUR CLIENTS SAY
Collingwood Batchellor

"You delivered everything we asked for and more, with over 27% of our annual turnover achieved in just four weeks and advertising bang on budget."

Guy Collingwood, Owner

April 19, 2017

Oliviers Furniture

"Once again I find myself writing to you (unprompted!) to congratulate your company on our 2nd and best ever Refurbishment sale event. It ran like clockwork, exceeding our top estimate by 20%. It really could not have gone any better."

Paul Olivier, Owner

March 31, 2017

Grampian Furnishers

"Another great sale, well done to your sales coordinator Ray who never stopped, he was like a Duracell bunny, can't believe our seventh one in a row was our best one yet! Generating a month's worth of sales in two days still amazes me every year we do a Lynch event!"

Royce Clark, Managing Director

March 31, 2017

Gordon Busbridge Ltd The Furnishing Store

"The sale delivered even more business than our first Lynch Sale, over £327,000 in two and a half weeks. Result!"

Mark & Richard Busbridge, Owners

March 31, 2017

Kenmore Interiors

"From start to finish he helped drive the sales, motivate staff, leading by example to ensure, no matter what came our way that we all pulled together to achieve the results required."

Bryn & Tina Whitaker, Owners

December 01, 2016

Quilters Furniture

"We are unreserved in our recommendation of Lynch Sales, we did not dream of this level of business during a closing down sale and could not have done so without these guys. BRILLIANT JOB - THANK YOU."

Jon Quilter, Managing Director

November 26, 2016

Knole House Furnishers

"We achieved over half a year's turn over in just twenty-two days."

Adrian Pounce, Owner

November 07, 2016

G & W Furniture

"Our fourth Lynch Sale in four years speaks for itself! Outstandingly successful as always. Amazed by the rapid sale of clearance items."

David Wood, Managing Director

October 26, 2016

Fosters for Furniture

"Well how should I put it? Yet again the Lynch sales team exceed expectations."

Richard Foster, Owner

October 07, 2016
READ MORE
See what our clients are saying in your area
This year, when it comes time to plan your next sale, plan on calling on Lynch Sales Company. Let us bring the expertise that only a century of experience, and thousands of sales can deliver.
The Lynch Sales Company is the original sales promotion company, the one that many of the finest retailers in the U.K. and Ireland choose to hold their sales.
Why? Because we've been delivering real results, with honesty and integrity since 1914. After all those years, we still find it the best way to gain and retain clients.
The Lynch Sales Company can always relied upon to:
Provide high quality sale coordinators and additional sales help with years of experience.
Fully cost estimate all Sale plans, review them weekly and ensure that the client keeps hold of the purse strings.
Ensure that nothing gets published without the client seeing it first.
Protect the client's margin by only implementing agreed upon discounts.
OUR SERVICES
30 day Consolidation or Relocation Sale
17 or 30 day Business Stimulation or Cash Raising Sale
Remerchandising or Remodeling Sale
Retirement or Complete Closeout Sale
Doesn't your store deserve the experience, integrity and results of a Lynch Sales Company sale event?
To find out how the Lynch Sales Company can help you, simply contact Gareth Price (contact info below) and he will send you legitimate and current testimonials from respected retailers you can contact to verify the results.
Lynch Sales Company, U.K.
29, Warblington Road, Emsworth, Hampshire, PO10 7HD
Tel: +44 (0) 1243 378369
UK Divisional Manager Mobile: 07974209761