Lindsay's Furniture

Dear Chris,
We have been very pleased with our experience with the Lynch Sales Company and the help given to us through Greg Klaffka's professional assistance. The sales staff of Belinda Howard and Amanda Mathis were beyond our expectations.
We selected Lynch to help us for many different reasons, but mostly the reputation in the furniture industry and their professional expertise. We would not hesitate in recommending Lynch Sales Company to other retailers.
Our overall advertising expense was less than 3% and we were able to reach our projected goal in 26 selling days.....needless to say, we were very pleased.
Thank you,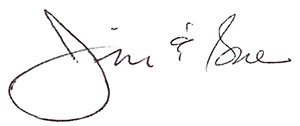 Jim & Sue Lindsay
Lindsay's Furniture
---