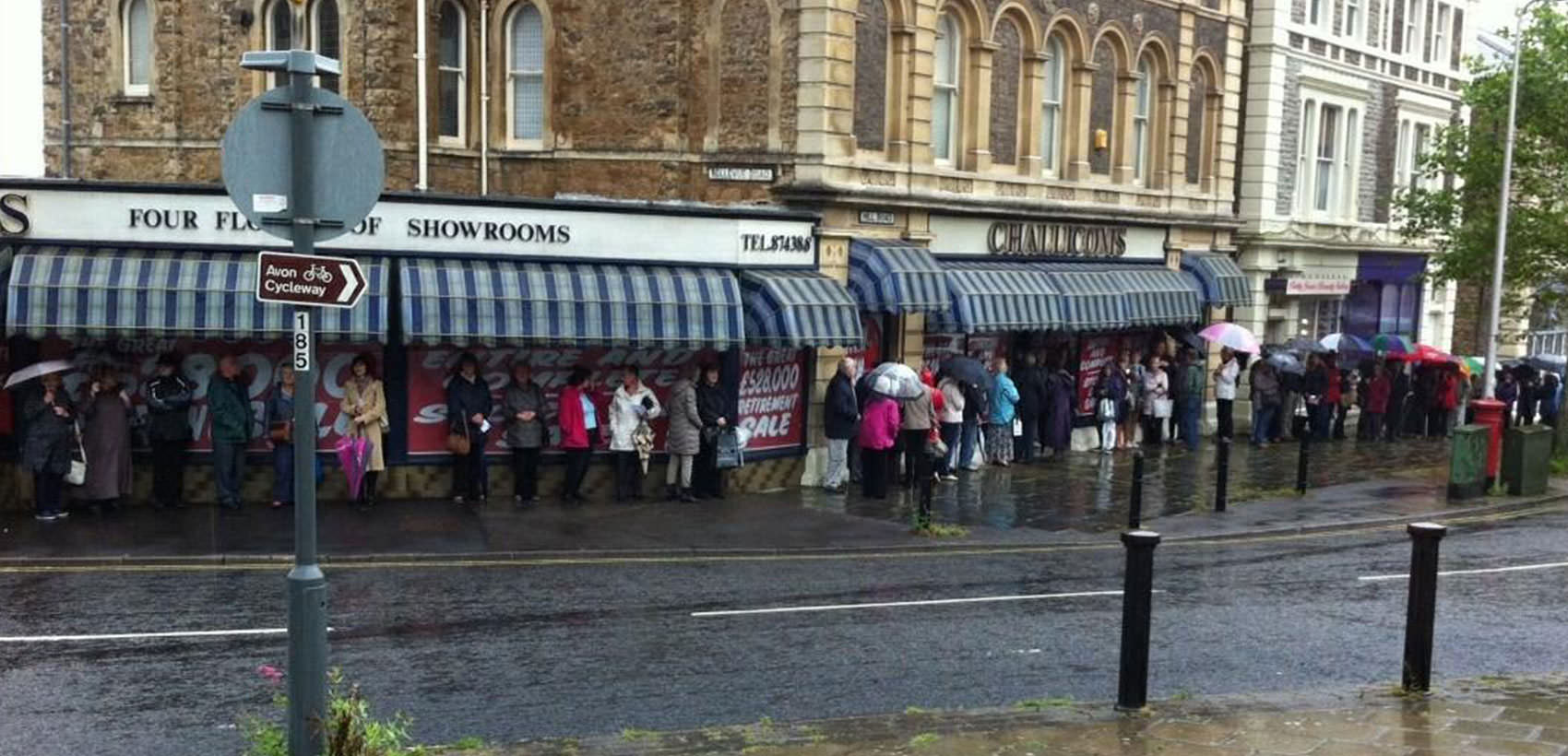 LYNCH UNITED KINGDOM & IRELAND
With a Lynch Sale, you can achieve as much as 100%, and at least 30%, of your business' annual volume in just 30 selling days. You can expect immediate results, increased cash flow, new customer base, balanced inventories, and high visibility. Choose a sale plan that works for you: relocation, remodeling, inventory reduction, cash raising business stimulation, or retirement/store closing. Your event and sale plan will be custom designed to address and exceed your specific goals.
We have the most repeat clients in the industry and we are the only sales event specialist with an A+ rating from the BBB. We offer the most complete and customized marketing campaigns, our sales conductors and salespeople are the most qualified in the field, and we offer a no-nonsense one page contract. Most importantly, we can help you maintain the reputation and integrity of your business and exceed your goals. Lynch Sales Company originated the concept of Promotional Sale Events, and we have been serving our customers for over 100 years!
Don't take our word for it- read what our clients have to say!
WHAT OUR CLIENTS SAY
The Store Interiors

"Overall, we were extremely impressed by the professionalism of everyone involved. We would recommend Lynch to any business thinking of staging a major sale event."

Arun Pasi, Owner

November 05, 2019

Tudor Williams

"I am delighted the business made the key decision to once again engage the professional services of Lynch Sales Company. I have no hesitation in recommending the great services of the Lynch Sales Company to any other retail business. You make things happen whilst delivering outstanding results."

Alan Bushnell, Group Merchandising and Operations Director

August 28, 2019

Roomes Furniture & Interiors

"I have no hesitation in recommending Lynch to any retailer who wishes to re-energise their business, galvanise their people and make profitable sales."

Michael Roome, Managing Director

August 13, 2019

Gordon Busbridge Ltd.

"The Sale Event was another huge success; despite the economic climate, we managed £293,500 in two and a half weeks!"

Mark & Richard Busbridge, Owners

January 02, 2019

Richard Cook Furnishers

"He has achieved the result we wanted and put in a tremendous amount of hard work and effort."

Richard Nunn, Managing Director

December 03, 2018

Style Furniture

"This was not the first time we have used Lynch, and I very much doubt it will be the last!"

Andy Walker, Managing Director

October 13, 2018

Elphicks

"In excess of £1 million take in 22 trading days. In excess of 5,000 customers through the doors on day one...I would highly recommend your services of the Lynch Sales Company to other retail businesses."

Alan Bushnell, Group Merchandising and Operations Director

September 27, 2018

William & Sons

"The event exceeded our expectations. By nature I'm a very cautious person but I have been left speechless with the results."

William Cole, Managing Director

August 07, 2018

Maitland's Furniture

"Maitland's have worked with other sales promotional companies in the past but clearly they did not employ the high level of skilled sales personnel, nor did their marketing plans gain traction in the way that Lynch could."

John Maitland

October 05, 2017

Farleys

"Mark was an absolute revelation; his energy levels and commitment were phenomenal and how he generated and maintained the enthusiasm of my somewhat jaded staff was a joy to behold."

J.F. Farley

September 04, 2017
READ MORE
See what our clients are saying in your area
To find out more, contact Gareth Price in our U.K. office, and he will send you legitimate and current testimonials from respected retailers you can contact to verify the results:
Lynch Sales Company, U.K.
29, Warblington Road, Emsworth, Hampshire, PO10 7HD
Tel: +44 (0) 1243 378369
UK Divisional Manager Mobile: 07974209761