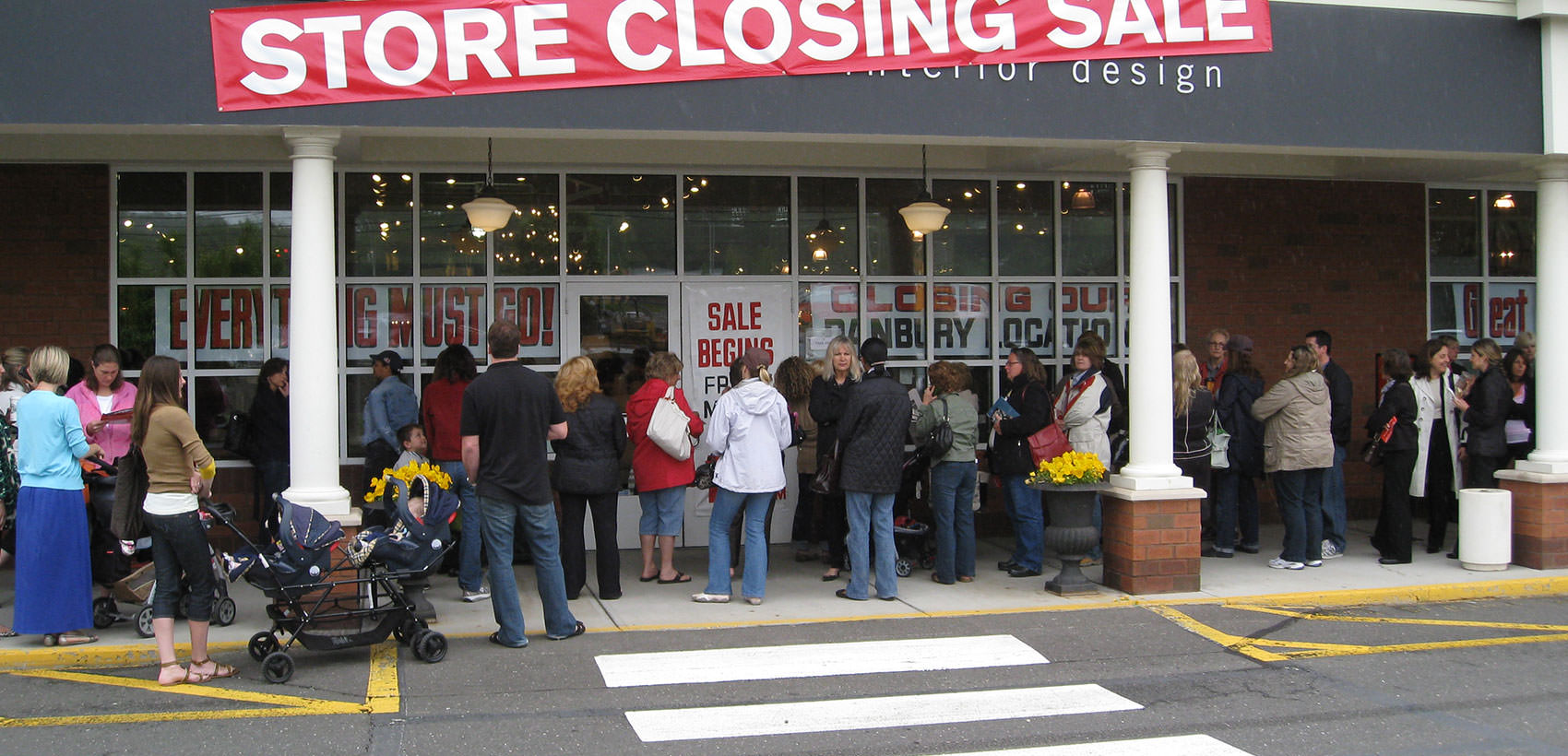 Lynch U.S.
For more than 100 years the Lynch family continues the traditions begun by our founder, Joseph P. Lynch in 1914 when Lynch Sales Company originated the concept of promotional sales to stimulate business, generate cash, update inventory, or go out-of-business.
WHAT OUR CLIENTS SAY
Paul Michael Company

Happening now in Canton, TX: The Great $4 Million Store Closing Sale! Within the last year, Lynch also held Store Closing Sales in Paul Michael's Lake Village, AR and Monroe, LA stores. The Sales were so successful that they hired Lynch again for this event!

Paul Michael, Owner

April 27, 2022

Parra Furniture & Appliances

The Great $3 Million Store Closing Sale!

Jaime Parra Jr., CEO

March 23, 2022

Motsinger's Ethan Allen

The Great $3 Million Store Closing-Retirement Sale!

Bill Motsinger, Owner

March 04, 2022

Livingston Furniture

The Great $1 Million Store Closing-Retirement Sale!

Dick Greenfield, Owner

January 21, 2022

Ossian Furniture and Design

Ossian Furniture & Design held a very successful Lynch Sale when the owners made the decision to close their store in Ossian, Indiana. The Great $1 Million Store Closing Sale!

Kevin Smith, Owner

November 05, 2021

Hill Country

Hill Country Interiors, a repeat client of Lynch Sales Company, trusted Lynch in the summer of 2021 to conduct a successful Remerchandising Sale to allow them to make room for brand new inventory: The Great $5 Million Total Furniture Sell-Off!

Bill Holland, Owner

August 25, 2021

Charlton Furniture

"Overall, I have been extremely pleased with the results of the sale. We actually doubled the sales expectation on the first week of the sale. This certainly is an experience I will never forget!!"

Susan LeBlanc, Owner

August 22, 2021

Antèks Home Furnishings

"The sale was as successful as it could have possibly been and we exceeded every goal. We're very happy with the way this sale ended up."

Jason Lenox, Owner

May 18, 2021

Tucker Furniture

"The Lynch Sales Plan worked very well from setup through the entire event...I would highly recommend to any retailer wanting to use Lynch for an event."

Edwin Tucker, Owner

April 01, 2021

Revolve Furnishings

"Thank you for providing us with an event that was not only successful, but done with integrity, clarity and a well laid out plan. We got higher margin and so much larger sales numbers by using Lynch. My biggest regret is fretting so long about bringing your company in to run our event."

Jeff Stoner, Founder / Owner

August 03, 2020
READ MORE
See what our clients are saying in your area
GET BACK IN THE GAME WITH A LYNCH SALE
Lynch Sales Company's copyrighted Sale Plans are custom-designed to meet your business needs and situations. They are strategically designed to achieve at least 30% and as much as 100% of your store's annual volume in just 30 to 90 selling days. Lynch maintains the reputation and integrity of your business.
We have coordinated thousands of successful Sales, generating crucial cash flow for prominent reatilers throughout the USA, Canada, Ireland and the United kingdom, including members of the NAHFA and more than 250 Ethan Allen stores. The Wall Street Journal has described Lynch as the sales event specialist "that furniture dealers say is reliable."
Lynch charges a commission based on performance and volume. We receive no payments until after the first week of the sale and there are no upfront costs.
OUR SERVICES
Promtional Sales
Remerchandising Sales
Inventory Reduction Sales
Retirement Sales
Trade Expansion Sales
Business Building Sales
Relocation Sales
Remodeling Sales
Cash Raising Sales
Complete Closeout Sales
Consolidation Sales
Anniversary Sales
CONTACT US TODAY!