Lynch puts sales in a box
By Clint Engel -- Furniture Today, December 7, 2016
CHATTANOOGA, Tenn. — Industry promotions specialist Lynch Sales has launched a "sale in a box," concept, designed to bring its copyrighted sales events and consulting services to small retailers who may not be able to afford the full-service treatment.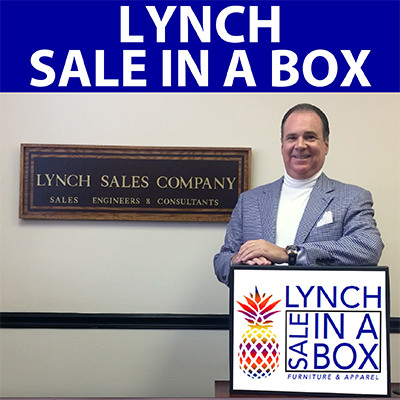 The Lynch Sale in a Box was created for smaller stores wanting to affordably "raise cash, reduce inventory and improve their standing in the community," the company said.
It's actually a new marketing twist on a service the Chattanooga, Tenn.-based company has offered for 30 years, said CEO Chris Lynch. It was formerly called a "consulting sale," but Lynch decided to re-market the program because he still found himself having to turn down small retailers calling for full-service events when they didn't make sense financially.
"Many of these retailers are unable to sustain a traditional Lynch Sale event as they really don't qualify for our full program," he said in a release, adding that these retailers are often too small to justify sending a sales conductor and other sales personal.
Now, instead of doing nothing or perhaps hiring a competitor, "the retailer can have a scaled down Lynch sale in his store for a nominal cost," Lynch said.
The sale in a box is a scaled-down version of the company's copyrighted events, offering everything the retail needs except for an on-site management team. The roughly 18-by-15-by-10-inch box includes a 17-day or 30-day sale package with signage, advertising, direct mail marketing and sale tags.
The package also comes with consulting service as Lynch works with its client on negotiating all advertising, creating and booking ads and posting on social media networks. Rather than having a sale coordinator in the store, retailers call or email Lynch at its main office for help throughout the event, the company said.
The cost is $4,500 for a three-week sale package and $6,500 for a five-week event. Lynch said retailers can expect to generate 15% to 20% of the store's annual volume during what he called a "business stimulation event" and more during a "complete close-out event."
---