Roomes Furniture & Interiors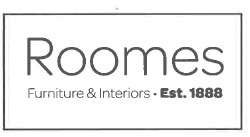 Dear Gareth,
Just dropping you a quick line to update on the making great progress with our new look Roomes. The store is looking better than ever after the refurbishment, and we are delighted with the response to our new website. I just wanted to put on record how important the event you orchestrated for us earlier this year was in kick starting the improvements.
We came to you as part of our plan to re-invigorate our business during 2019 and as a part of an antidote to the doom & gloom that we currently face in today's market. We considered all the options and after several meetings we decided to hire the Lynch Sales Company for our 2019, The Great £2,000,000 Refurbishment Sale. We are glad we did.
Our objectives were clearly stated.
• The event must compliment our "Make yourself a home" marketing strategy.
• Enhance our reputation in our marketplace.
• Bring in new and existing customers.
• Build profitability.
Mark & Steve were two first class Sale Coordinators to guide us through this exciting and occasionally scary process and they were instrumental in delivering on the plan. They worked as one with our team and re-acquainted us with a few retail disciplines that we had let slip as well!
You guided us through a comprehensive marketing campaign comprising direct mail, T.V., digital, social, press, radio and point of sale material, which costs us only marginally more than we would have spent on the spring campaign anyway.
In a difficult market we saw queues outside the front door, new customers, existing customers and some that we hadn't seen for a long time. A comment that we heard often was one of "I didn't know that you advertised on TV so our profile was well and truly raised.
You have helped us form a great platform on which to build our business - which was all part of the plan, thank you. I have no hesitation in recommending Lynch to any retailer who wishes to re-energise their business, galvanise their people and make profitable sales.
I look forward to showing you the Store and website after phase 2 of our development.
Your sincerely

Michael Roome
---